FROG ART CLASSES FOR ADULTS WITH KYLIE AT ART FRIENDS
Have you ever wanted to draw or paint a frog, but lack the confidence?
Art Friends now offer an online step-by step- workshop simply called
Frogs, Frogs, Frogs
In this module we are going to investigate and look at these beautiful creatures. We will explore different techniques and media to create frog art with dramatic outcomes.
This five-lesson workshop introduces students to the following experiences.
Drawing basics using line and pattern.
Exploring colour of the frog and the backgrounds
Using different techniques both wet and dry to create a frog.
Various observational skills which will help you in the future with other topics.
Frog Art Workshop Content
Lesson 1
Fast Frogs Part one: This lesson will get you all warmed up by working fast. We will do several quick drawing exercises focusing on line and shape to get a feel for our motif.
Fast to Finished Part two: After using our fast frog art drawing techniques to begin we will now slow down and add colour and details to create small, finished studies of our frogs.
Lesson 2
Liquid Drawing: This is a linear observational and playful lesson using our eco colours and water to explore our imagery in liquid fashion.
Frogs includes 5 art experiences to enable you to feel confident to engage with a variety of media.
The material list for this workshop is recommended only! You can purchase them as a kit from us or from your local art supplier.
Level 3
Lesson 1 Fast Frogs part one
Fast to Finished Part two
Lesson 2 Liquid drawing
Lesson 3 Wet on Wet
Lesson 4 Combining drawing and painting
Lesson 5. Where is my Background?
Lesson 3
Wet on Wet: Explore working wet on wet with colour and shape. Working in a gentle and loose manner.
Lesson 4
Combining drawing and painting: Using our new found skills it is now time to marry the two techniques together.
Lesson 5
Where is my Background?
PART 1 Backgrounds can be challenging, sometimes the best background is no background! But this frog art workshop lets you play with a few simple techniques to create a variety of backgrounds.
Bringing it all together
PART 2 Using your backgrounds and combining your drawing and painting skills let's bring it all together to complete your work!
We will combine our new drawing and painting skills to build art knowledge and confidence. Frog art lessons are structured so that are suitable for both beginners and more advanced!
I do hope you will join me for Frogs, Frogs, Frogs – Kylie
Level Definition.
No artistic skill is assumed in all of our lessons. All modules are suitable for clients to work with a facilitator.
1. Basic skills. Some may need direction. Be able to hold a brush or pen. Able to follow simple instructions.
2. Building on Basics. Able to create simple shapes and patterns. Maintain concentration for a longer period.
3. Capable. Follow simple instructions independently.
4.Competant. Independent worker able to try new challenges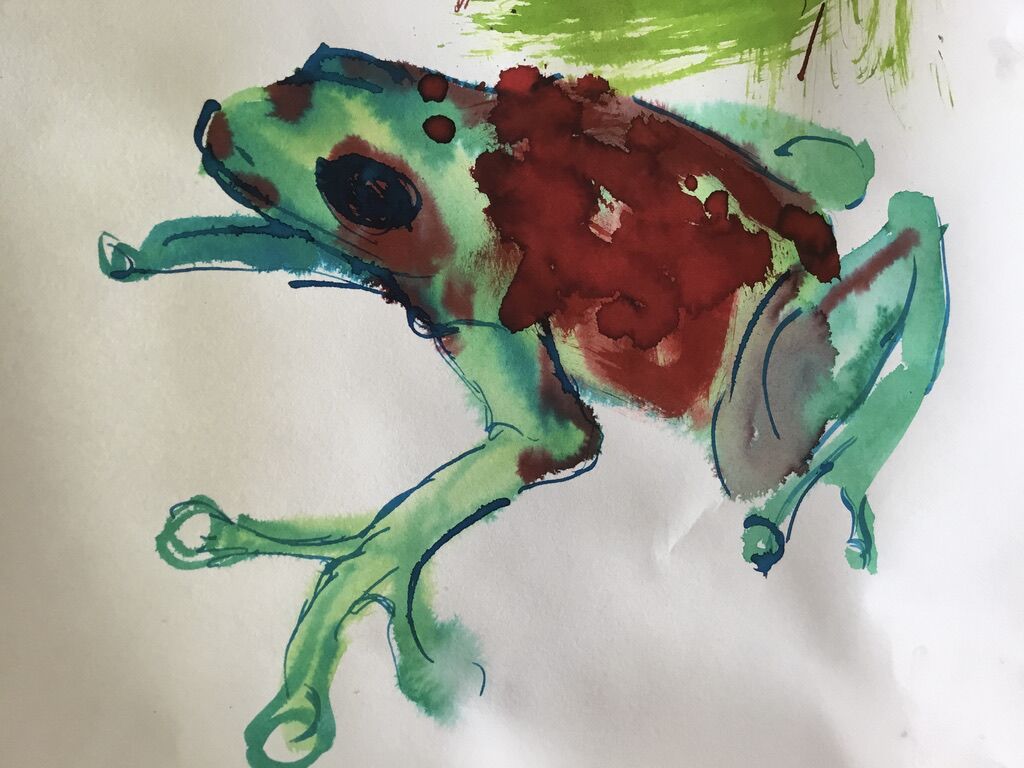 ---
Other Online Art Workshops